You are bringing to life, or you are attending your loved ones' destination wedding in the Loire valley and wonder if the trains, the cars or the shuttles are the best options to get to the Loire Valley in France for you. In this blog post we share with you the easiest, fastest, cheapest and various ways to get there wherever is your entry point to France. You can also check the various smart phone apps to the transports companies referred to in this blog that will make your journey so smooth, easy and enjoyable!
We encourage you to add this post onto your wedding and event's website to share the knowledge, and to informe your guests on the best ways to get to the Loire Valley and move around.
YOU LAND AT PARIS CHARLES DE GAULLE AIRPORT IN FRANCE
you are flying from abroad and you already know that you are landing at Paris' Charles de Gaulle Airport. From Paris Charles de Gaulle Airport, we suggest the following transports to get easily to the Loire Valley:
Speed train TGV from CDG airport to the Loire Valley
By far our favorite for those who likes to use their times TGV means "Train à Grande Vitesse" as to say "high-speed train". Confortable with wifi and bar-wagon, these trains bring you and your guests directly to the Loire Valley. You can easily book any train ticket online at best price on the official railway French system at Official French trains system, OUI SNCF, which is available in several languages. You can also book and follow your bookings via there Apple Store and Google Play OUI SNCF smart phone app.
The TGV station is located at Aéroport Charles de Gaulle 2 underneath Terminal 2 (T2) and between terminals 2C - 2E and 2D - 2F. Not landing at T2? No problem, the shuttle between terminals will get to there easily.
From T2, you access the terminals 2A, 2C, 2D, 2E, 2F, 2G and CDGVAL shuttle train via the level 4. You will find the information desk as well ticket sales. It is also good to know that there is a Waiting lounge that maybe of use on your way back if you are early to catch your flight.
The cities served by the TGV from Paris Charles de Gaulle airport and the Loire Valley are Orleans, Blois, Tours St Pierre des Corps, Angers St Laud, Nantes.
Car rental from CDG airport
May you prefer driving yourself and enjoy the roads french life, then car rental is for you and also straight from the airport. you will find many car rental offices located inside of the terminals of the airport Charles de Gaules. Depending on your preferred car rental supplier, you will find them at various Terminals. See here for the list of car rental offices and there location at the airport
Paris metro and RER to/in/around Paris
May you want to do some touring in Paris before heading to the Loire Valley, you can take the RER until Paris main metro stations then any metro to get to your favorite place.
More about all transports at Paris airport Charles de Gaulle airport in English.
YOU LAND AT PARIS ORLY AIRPORT
Bus shuttle from the Orly to Paris train stations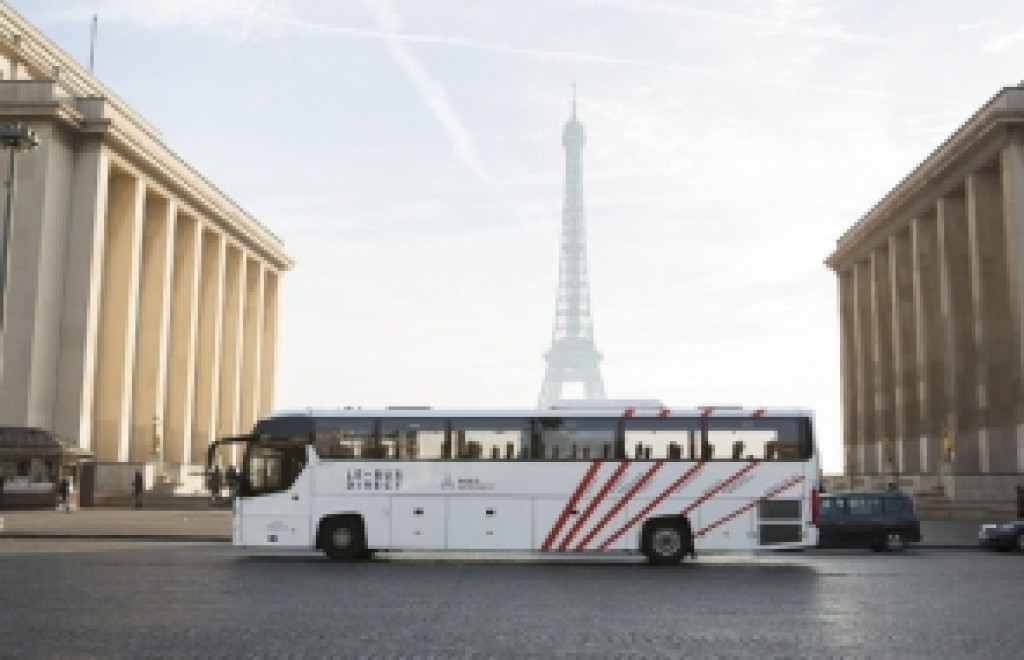 There is no direct speed train from Orly airport, but there is a direct bus "Le bus direct" going to the train station Paris Montparnasse from where you can catch the next speed train to the Loire Valley. Speed train to the Loire Valley straight from the train station cost between 20€ to 50€ depending on how early you book your ticket.
The direct buss, called "Le bus direct" from Paris Orly airport to Paris Montparnasse train station, to catch your speed train to the Loire valley, cost between 9€/pers. for group of minimum 3 people (7€ for kids 4-11 years old) to 12€ for the normal fare, and 22€ both ways for an adult. Payment can be made online here or at the bus stop outside the terminal of the arrivals or even in the bus with the driver for an extra 1€.
Car rental from Orly airport
Care hiring straight from the airport. Here, and also at other brokers such as Car Europe, you can check the best rates and also choose a different return address for more confort and freedom in your itinerary.
YOU LAND IN TOURS AIRPORT IN THE LOIRE VALLEY
If you have the chance of flying directly to Tours airport, one of the biggest city in the Loire Valley, and may want to hire a car upon your arrival at the airport of Tours, then here some tips.
Car rental from Tours airport
Book your car in advance! There is no stationed car rental office at the airport of Tours, but you still can hire a car via two care rental providers, AVIS and EUROPCARE with pre-reservation (English spoken).
The pricing would differ depending on the number of seats, the standard of the vehicle ex. a P308 or a "family" ex. Ford C-max, or an SUV ex. P3008, and the insurance you chose to take.
The designated drivers are requested to present their driving licence as well as their payment card. You will be encourage to take the necessary insurances.
AVIS TOURS, Z.A. Le Papillon, 37210 Parcay Meslay, tel. +33 2 47 49 21 49 avis.tours@auto-tours.fr,
EUROPCAR, 194 Avenue Maginot, 37100 Tours, tel. +33 2 47 85 85 85, www.Europcar.com
Avis and Europcar bring in rental car at arrival of commercial flights such as Ryanair.
Taxis
You can also chose to call a local taxi, here is one Taxi GIE Tours 02 47 20 30 40
More contacts
You can easily book group and individuals trips and why not full holidays transportation service with MonTransport
You easily find the right taxi for your trip during your stay at any time and anywhere in the region via iTaxis.
Check and book your trains anywhere in France via the official site in English of the French railway system.
You travel from Guernsey to the Loire Valley
For those wishing to travel from Guernsey by boat, Condor currently has a sailing (via Jersey) scheduled to leave Guernsey, arriving in St Malo. They also have a direct sailing, arriving in St Malo. There is a return ferry leaving St Malo, arriving in Guernsey at. If you are considering travelling by Condor we would recommend booking as soon as possible given that the celebrations is held over a bank holiday weekend. Check Condor Ferries.
Aurigny offer limited direct flights from Guernsey to Dinard. Check Aurigny.
You travel from UK to the Loire Valley
For those wishing to fly from the UK, Ryanair operates a direct service between Stansted and Tours. Easyjet also operates a route to and from Nantes Atlantique Airport. There is a fast train connection between Nantes (Gare de Nantes) and Tours (Gare de Tours) that takes approximately 1 hour 45 minutes.
Easyjet, BA and various other airlines service Paris Charles de Gaulle Airport from the UK. The airport is approximately forty minutes' drive from Paris Montparnasse train station, which offers fast trains to Tours and St-Pierre Des Corps (approximately 50 and 55 minutes' drive respectively from the Château). The fast train takes about an hour from Paris Montparnasse.
We help you!
We are happy to help you out with creating your best itinerary, just.ask@castlekey.com together with your date, your hour and your address of arrival, and terminal if flying to France, the number of passengers, your destination(s) as well as your date, your hour and your address of departure, and terminal if flying back from France and the number of passengers. Your destination wedding is a click away with Castle Key Destination Wedding just.ask@castlekey.com or call the operations in France on the +33 6 47 35 67 42.