S&Z - Florida USA - How to bring your destination wedding in Stockholm Sweden.
S& from Florida in the USA, love traveling, the arts and the surprises; they tell us their story and how to bring a destination wedding in Stockholm Sweden. Castle Key brought them many surprises, including one of the most beautiful metro stations in the world.
S&Z met early 2015 at Morenci Arizona at work leaching office. Zak was assisting in commissioning a CLP Plant. During his work he needed to put in chemical request forms. Sophia was in charge of approving these forms. Since this was a new plant, the communication was forced allowing time for personal connections beyond work. After a few weeks they began to communicate outside of work eventually Zak asking Sophie to go to a movie at the cinema, the first Avengers.
Zak was attracted by Sophie first thing was her strong will at work. He found her attractive and with strong professional personality brought him to want to know more about her.
Their first date was the Avengers movie at the Morenci Movie Theater and their first kiss what the second date at Sophie's house.
There were two special moments that deepened their relationship. Thanksgiving 2015 when Sophia went to visit Zak after he moved away to Florida. The trip was amazing, and he felt that they should continue to make things work with distance. The second was when they went to Hawaii in 2016 to visit her family. For Zak this trip was the deciding factor that he was willing to take a deep dive in the relationship to make it work.
There wasn't one moment but the continual happiness over the first year or two living together that make them know they were the one for each other. Zak knew that after all the ups and downs he continued to love her more and if you can continue to grow love after all the squabbles you have found something more. For Sophie, it was probably a moment when she was with all her friends and she realized there was so much she would give up to be with Zak.
When asked about something uniquely special about them and their relationship, Sophie and Zak became very talkative and no doubt their engagement was a very special moment to them.
Zak proposed on December 31, 2017 at Disney World. Leading up to the proposal Sophia was very descriptive on the type of ring she has been looking forward to for a long time. Long before Zak decided he wanted to propose they had visited Tiffany stores across the US on their travels to look at their Yellow Diamond engagement rings. Zak knowing exactly what Sophie wanted decided it was time to take the plunge… the plunge to go ring shopping! Living outside the city would need to take careful planning and a strategy. Zak decided that he would leave work early and head to Jacksonville, FL which was about an hour away drive from their residence in Lake City, FL at the time. Knowing that he wanted everything to be perfect he decided to grab one of Sophie's favorite rings to ensure sizing was done correct and not just relying on his memory. As usual Sophie decided to call as she was going to leave work early as well. Panicking Zak had to deliver some rouse to hopefully keep her off his trail. Guilty, he continued to drive to the store, during which time guilt started to set in as he had to LIE! Heartbeat racing, he entered into the store where he placed an order for three different rings to be delivered to the store within a week.
On his drive home Sophie called again wondering if he knew where her favorite ring had gone as she could not find it! Damned, Zak had to begin to come up with a plan to place the "lost" ring back so it could be found by Sophie without her worrying about losing it forever. Clever placing (in Zaks mind), he would put the ring in-between some of her make-up items in the bathroom knowing that she would locate the ring within 24 hrs. Thinking he was clear, he had to come up with another way to get her back to Jacksonville to look at the rings in a week. Luck would have it that Sophie wanted to go to the area next to the Tiffanys for Christmas shopping. He thought to himself that going into the store and looking at these rings wound not be anything outside their normal routine.
Again, Zak's heart was racing as they entered the store knowing that the potential rings were there for her to look at. Calling ahead the staff was ready to make this a fun time. They made their way over to the ring selection and to Sophies amazement she said there are three yellow diamond rings here and in her size! Typically, there was only 1 or two at any given store. All three were slightly different representing a unique style. She tried them on and asked Zak's opinion. Trying not to give away his involvement he tried to act like he didn't care, and honestly his acting was lacking to be polite, says Sophie.
Sophie found the one and state this would be the perfect ring. With those words Zak nodded to the manager to put the hold on that one. Almost 2 months would have to go by before Zak would propose. The excitement flowing, he had to plan an event that would be as special as he felt. Disney World on New Years Eve in front of Cinderella's Castle at midnight would be his choice.
Knowing this would be a long day, Zak decided to pack a backpack and would hide the ring in a pocket. Approaching the gates he remembered that with a big they needed to go through security where they would shuffle through the bag. Trying to figure out how he could get through without Sophie seeing the little blue box, he awkwardly told Sophie go through the non-bag line and that he would go through the bag line. This choice made no sense since Sophie would just have to wait on the other side, but she rolled her eyes and did it anyway. (Sophie remembers thinking that he this was really weird) As Zak approached the security, he luckily got a nice lady, who when she got to the pocket with the ring in it Zak whispered to her "please don't make a scene of this" as he showed the blue box. Understanding she looked up to him smiled and said, "good luck and congratulations".
Zak made it through the gate. Holding onto the backpack as Golem would to the ring, Zak would not let Sophie hold it or rummage through it. At one point, Zak needed to go to the rest room and Sophie said let me have the bag I want a snack. Zak barked back that he no longer had to go and that he would give her the snack out of the bag. Sophie started getting really annoyed at how weird he was being with this backpack. He realized this would not last to midnight as it was only 10am at this point. He had to make a move early and get the pressure off of him. Sophie has always said that she didn't want a proposal to be a spectacle in front of too many people but no matter where this was going to happen they were not going to be alone.
Terrified on the right moment there was two instances Zak wanted to propose, backing out of both, it wasn't just right. Knowing Disney had photographers walking around, Zak thought to himself anytime is the right time I just need to get one of those photographers and then its going to happen. He took the ring from the backpack and placed it in his pocket and mentioned to Sophie that they should get a photographer and get a nice picture in front of the castle.
Sophie, agreeing to the photo opp, found a photographer rather quickly. On the garden courtyard to the right of the castle they got their first picture, then Zak paused for the second picture where he grabbed the ring from his pocket and got down on one knee and proposed. Everyone around gasped and began to point, talk, clap, and take pictures. Zak began with a wonderful speech and Sophie heard none of it…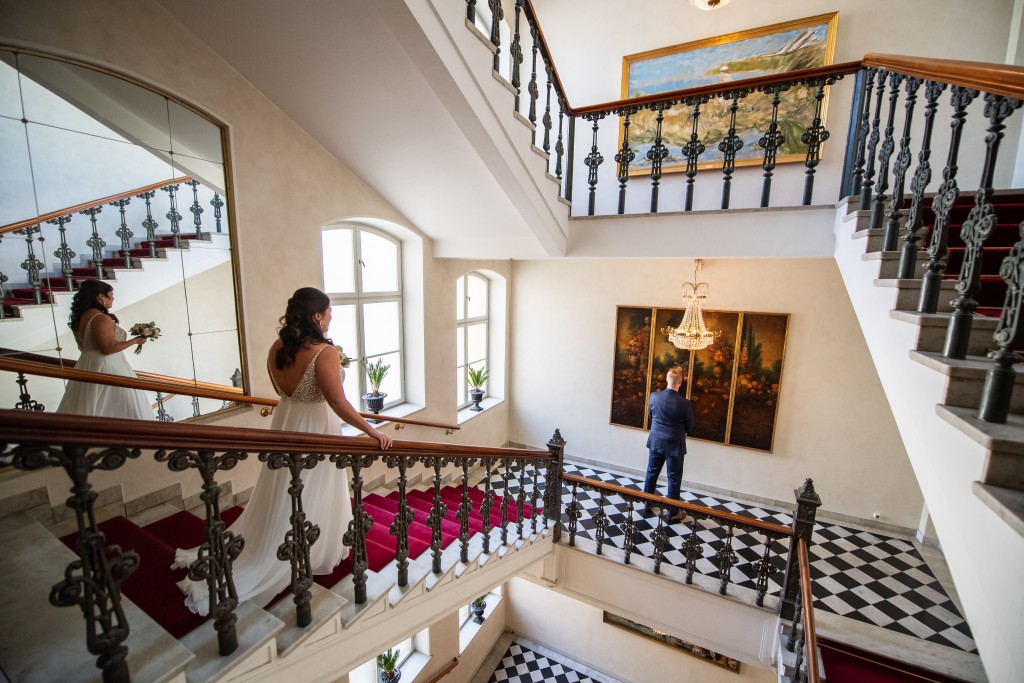 So Zak proposed at Disneyworld on New Year's Eve infront of Cinderella's castle. It was funny because Sophie couldn't hear what Zak said because the crowd was cheering so loud. She was not expecting the proposal and explain Zak's awkward behavior in the morning. Zak on his side thought "Thank God its over, offda that was a lot, and boy i'm glad she said yes"
The Tiffany & Co princess cut Yellow Diamond Tiffany prongs setting knife cut band was the perfect ring along with the story of its birth.
Sophie and Zak choose a destination wedding because they wanted to avoid the stress and cost of the traditional wedding and make the event surround them and their love rather then an event and obligation to a party. They wanted to have a story to tell about the trip and journey that they will value in the future.
They thought that it was going to be easy and they could show up and do it themselves. "We missed on that one!" they say. They had issues with paperwork, Vendors, and what would actually be memorable. Through assistance from Castle Key they were able to take a last-minute unplanned event into something that they will continue to remember, said Sophie and Zak during their interview.
They choose Castle Key over other agencies because their confidence, planning, and ability to understand their personalities made them choose Castle Key.
The most memorable part of her big day was the first look, and for Zak, the dinner at the Michelin start restaurant Operakällarens.
What they will take away from the entire affair is "A wonderful memory that we can have for a lifetime." they added.
In looking back, when asked if they would have changed anything or done anything differently they say " YES – Reached out to Castle Key sooner. Everything turned our wonderful, however, we could have made things smoother for Castle Key and ourselves with a little thing called time."
What they say to people about their experience with Castle Key is "The feedback and quality of communication was wonderful. We waited to the last minute to put this together and it was a great time. If you can start planning earlier, reach out for assistance, and enjoy your day as it comes."
Credit by:DavidZ Photographer
Organisation and Coordination: Castle Key Destination Weddings | Photo: DavidZ-Photography
Book your initial call with your wedding planner or just.ask@castlekey.com or call us at +33 6 47 35 67 42 (whatsApp) to bring to life your meaningful wedding and event.